I go back to work tonight after six long days off. I'm so grateful I got a short vacation to spend time with my prince before starting up the graveyard routine again. He has the sweetest personality! Today I took a nap with Kade- when I awoke he had both of his little hands on either side of my face and his nose touching mine, fast asleep. He melts my heart and makes me feel so proud to be his mama! He is so close to being able to crawl! He scoots backwards and rocks back and forth on all fours. I'm guessing he'll be crawling all over the house by tomorrow afternoon. That's so exciting!! But scary at the same time- I'm slacking in the baby-proof-the-house-ahead-of-time department.
Because I had a few days off and because of the wonderful inspiration I got from the new quilting book Ian got me- I made Kade a pair of pants. I am so proud of myself I can barely contain my excitement! They are so deliciously adorable and
they're reversible!
What could be better, really? I'm also making a lovely dress for Kades little friend, Athena. And all sorts of other things- If I tried to list my projects then..well, this would be another list blog. And we don't want that.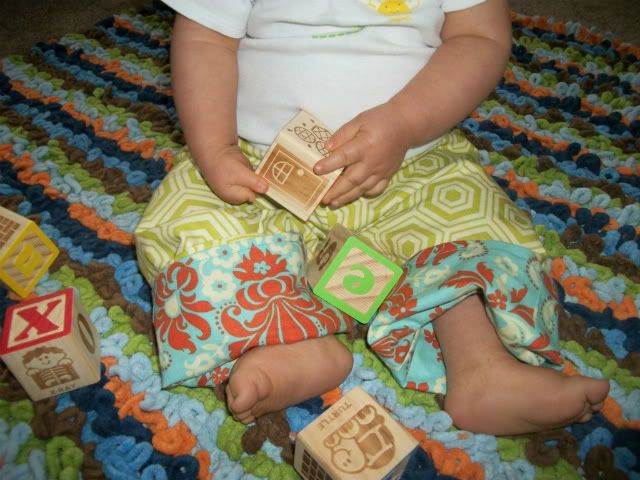 Something else I did today? I went grocery shopping at the health food store. I guess the theme of this blog is Pride. I know the store is there- hell it's right across the street from Target- but I never actually dragged my butt in there until today and I'm
so
glad that I did! Tonight for dinner I made pizza without the red sauce on whole wheat and honey crust- every single ingredient one hundred percent organic. And it was seriously
to die for.
It was certainly one of my most satisfying meals I've ever experimented with. I also stocked up on Organic baby food for Kade. Since he's not a huge fan of the food Mommy makes him, organic is the next best thing.

I wish I had a way of sharing the smell of the pizza that we made- it was mouth watering. Instead, I'll share the recipe. You're silly not to try it. It's so incredibly simple and you won't regret it!


I had to throw in an extra picture of how adorable Kade looks in his new pants.



Back to the daily grind-

Pizza without red sauce

2 tbsp melted butter
1 tbsp olive oil
3 tbsp minced garlic
2 tbsp sun dried tomato pesto
1 tsp dried basil leaves
1 tsp dried oregano
1 tbsp grated Parmesan
1 bunch fresh spinach, torn
1 sweet onion, sliced
1 fresh jalapeno, chopped
1 cup Mozzarella cheese
1 tomato, sliced
1 unbaked pizza crust

In a small bowl, combine butter, oil, garlic, pesto, basil, oregeno and parmesan cheese. Spread mixture evenly over crust. Arrange tomato, spinch, onion and pepper on pizza and top with cheese.
Bake according to crust directions.